Ez Health Solutions Store
Regular price
$65.99
Sale price
$59.99
Unit price
per
Sale
Sold out
TAKE BACK CONTROL: Gain control of your body with the help of EZ Diabetes Care (120 caps )and Berberine HCL (60 caps ). This powerful combination of herbal supplements can help maintain normal blood sugar levels, improve mood, and leave you feeling your best. Use daily as a diabetes daily supplement to help you better control your diabetes symptoms. Best when used as a partner to a healthy lifestyle including a good diet and regular exercise. Save $10 when you buy both together.
FEEL YOUR BEST ALL DAY: Manage your diabetes symptoms with better control using this combination of natural ingredients including berberine, chromium, and cinnamon. These supplements are perfect for diabetes care, and may also help to improve mood and overall well-being. Inside every capsule you'll find science-approved ingredients that your body needs to operate at its best, leaving you to feel empowered to take on every day.
WHAT'S INSIDE:  This potent blend of berberine, HCL, Curcumin and Bayberry root can help improve immune health to prevent illness and improve your body's defenses.  Chromium and cinnamon have been shown to help reduce blood pressure and insulin levels in numerous studies, making them perfect for diabetes regulation.  
HOW TO USE: 
EZ Diabetes Care: Take 2 capsules daily before or with breakfast and 2 before or with Dinner  for best results. Take with 8 ounces of water, preferably at the same time each day. May be taken with or without food.
Berberine HCL: Take 1 capsule in the morning or evening as recommended by your healthcare provider. Take with water or juice as per your taste.  Also may work well before meals to help promote a feeling to fullness to assist with weight-loss or maintenance.
INGREDIENTS:
Diabetes Care: Gymnema Sylvestre Extract 25%, Fenugreek seed, bittermelon extract 10:1, vitamin E, benfotiamine, alpha lipoic acid, b-complex, cinnamon bark extract 10:1, chromium picolinate, rice powder
Berberine HCL: Berberine, Bayberry Root Extract, Curcumin
DISCLAIMER: EZ Health Solutions does not intend to provide diagnosis, treatment or medical advice. Talk to your doctor before beginning any new supplement regimen or if you may be allergic to any of its ingredients. If any unwanted reactions occur, talk to your doctor.
View full details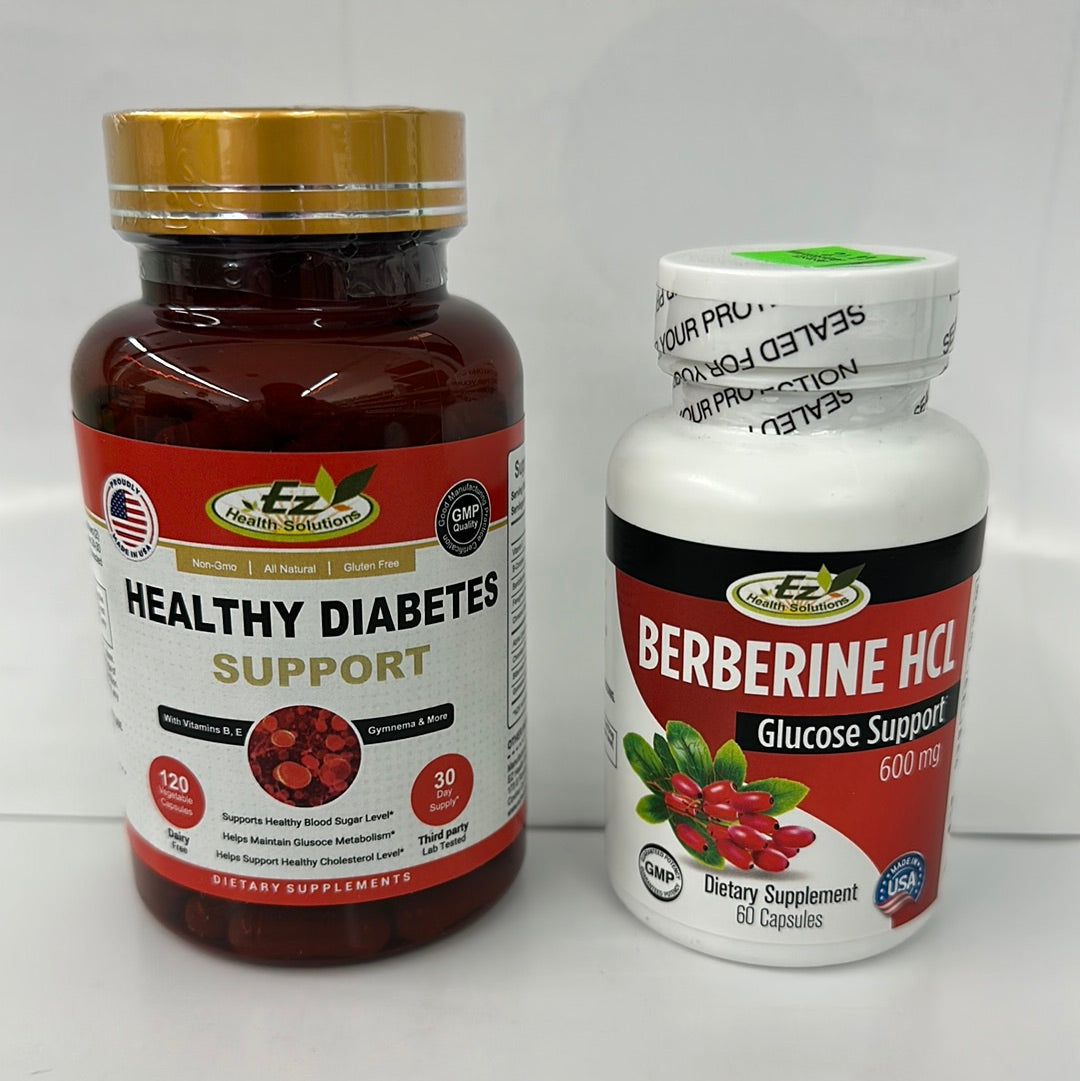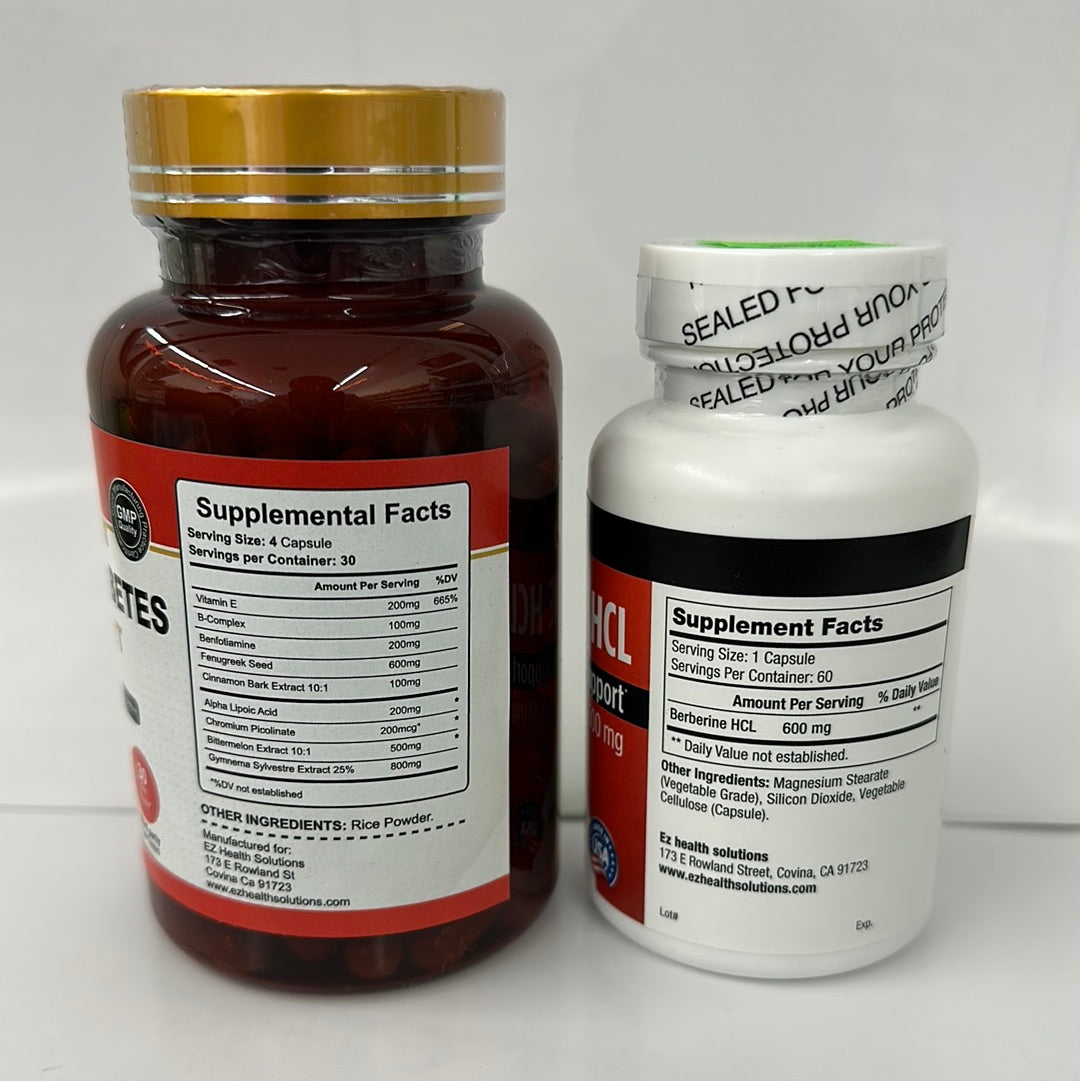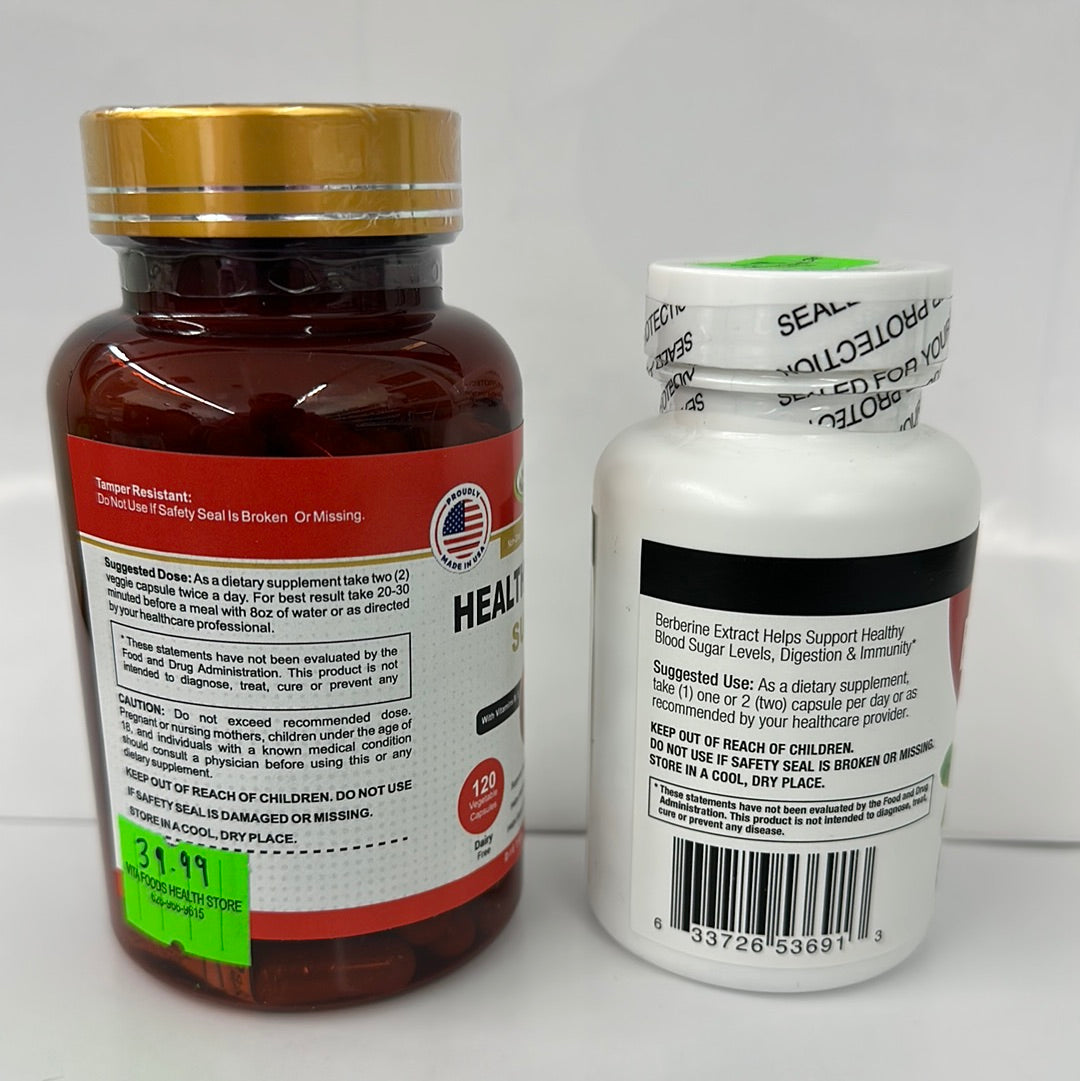 Made of All Organic Natural Ingredients
How to start with our supplements

Start slowly. Take one or two supplement per day as needed with enough water to begin with.
Fast Shipping

We offer express shipping. It takes 1/2 business days across all US to ship our product.
Affordable Prices

Our supplements start at $12.99, we want to make supplements affordable to everyone. Our main goal is to inspire more & more people into a healthy lifestyle.
Reward Program

We offer our star customers especial loyalty discounts every month.